The JANET PHILLIPS MASTERCLASS in WEAVING
- A HOME/STUDIO STUDY COURSE
AIM: To develop a confident, professional approach to the technical and design skills required to create original and innovative woven fabrics.

It is tailored for weavers who wish to achieve a high level of craftsmanship by participating in a comprehensive and structured programme of study. Janet Phillips will be available for email/telephone discussion and advice throughout the course.

Quarterly teaching sessions each year in Janet Phillips' own studio in Somerset followed by project-based briefs to complete at home for presentation at the following quarterly meeting.

Can be completed in Two Years with Quarterly five-day teaching sessions. Can be completed in Three years with one five-day plus four weekend teaching sessions each year.

Start dates are scheduled throughout the year. Please contact Janet to discuss programme and dates.

Components:
Compile an historical and contemporary textile research portfolio using words and pictures.
Produce sketchbook ideas and mood board inspirations.
Create colour theory and yarn dyeing sample file.
Collate a fibre and yarn sample file.
Weave approximately 40 weave structure samples developing fabric designs using Plain
Weave, Twills, Satin and Sateen, Extra weft, Extra warp, Warp dominant and Weft dominant
structures. These fabrics will illustrate - Colour, Stripes, Textures, Blocks, Curves, Figurative and
Two and Three-dimensional cloths.
Produce two finished pieces suitable for Clothing Fabrics, Interior fabrics, Rugs, and/or Art
Fabrics.
Keep accurate design record sheets of Materials, Sett, Calculations, Weave, Threading and
Lifting plans.
Illustrate various fabric finishing techniques and product finishing techniques.
Professional presentation of all the above components.
Develop critical analysis and evaluation skills
The course will be covering designs requiring 4 and 8-shaft looms or more.

Fee: £2,350.
Deposit: £350 (non refundable).
The first payment of £1000 is due at the beginning of Year 1.
The second payment of £1000 is due at the beginning of Year 2.
All materials supplied by Janet Phillips will be charged extra.
All other materials supplied by student.

This is not a certificated course with outside assessment. It is an opportunity to explore your own creative textile passions in a structured manner.

For further information and to discuss your personal requirements contact;
Janet Phillips
Butterfly Cottage,
37 Castle Street,
Nether Stowey,
Somerset, TA5 1LN

01278 732266

Email: phillipsjanet@clara.co.uk

VIEW AND DOWNLOAD THIS AS A PDF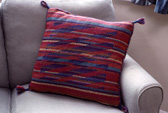 Weaving Courses with Janet Phillips
Held In the village of Nether Stowey at the foot of the Quantock Hills in Somerset. Please view and print my Natural Time Out brochure (pdf) for further details of these courses.